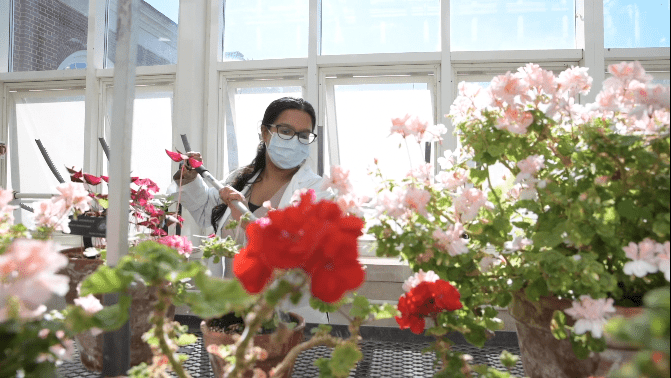 If you're walking through the research wing at the Irving Centre you're almost guaranteed to run into Kevindi Gunasekara (BSc Biology 2021).
Kevindi works full time as a lab technician for Dr. Kirk Hillier and in addition to that role she works part time for Dr. Robin Browne in plant tissue culture. Over the past two years Kevindi has worked full time as a technician in both Dr. Browne's and Dr. Hillier's labs on various projects. In addition to balancing two research positions, she also works part time at the Nova Scotia Health COVID-19 testing centre at Acadia University.
Kevindi began her research career through Acadia's co-op program, all three of her work terms were in research labs throughout Nova Scotia. She says, "when I started the co-op program, I thought I wanted to pursue a future in medical research. However, as I gained experience in plant science I found I really enjoyed that type of work and kept seeking opportunities to learn more". Through her plant science experience she has worked in conservation and agricultural research, learning specific skills in the areas of biostimulants, biopesticides, plant pathogens, tissue culture, cryopreservation and seed banking. She has gained valuable experience in academia and industry.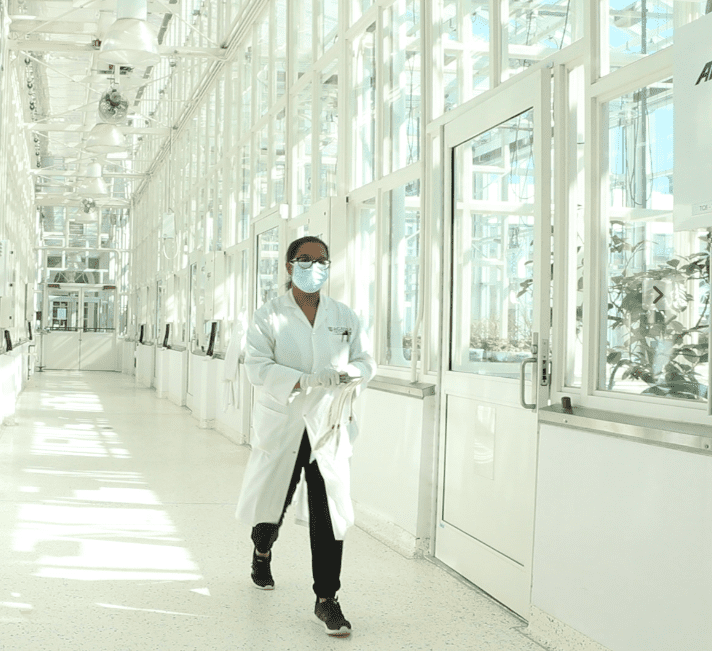 Kevindi is originally from Sri Lanka and she chose Acadia "because of the small class sizes, interactive learning opportunities and a strong base of diverse biology research". Recently, she reached a big milestone as she received Canadian residency. When asked about advice for other international students she says, "I'd say always try to be involved in activities in your department. Be it volunteering, picking up a research project, or part time position in a lab- all of these will help you explore what your specific interests are. As an international student, my undergraduate research experience helped me build valuable personal and professional connections with peers and mentors. My experience was critical in helping me to receive permanent residency in Canada soon after my graduation". 
With her research contracts coming to an end in the spring Kevindi has her sights set on some big changes. She has recently accepted a position as a Master of Science Student at University of Guelph's Gosling Research Institute for Plant Preservation (GRIPP). Kevindi says that to date her favorite plant science experience has been learning about the various applications of plant tissue culture. Knowing she was interested in continuing her education, Dr. Browne helped her make the connection with Dr. Praveen Saxena, the director of GRIPP. Dr. Browne says "I was very impressed with Kevindi right from the beginning, when she started with us as a co-op student. She has become an integral part of our tissue culture research activity at the K.C. Irving Centre. I have no doubt she will become a great asset to the GRIPP program".
Kevindi's story is one that highlights the value that Acadia's hands on research opportunities provide. We will miss her greatly at the Irving Centre, but are thrilled to see her take this next step in furthering her education.