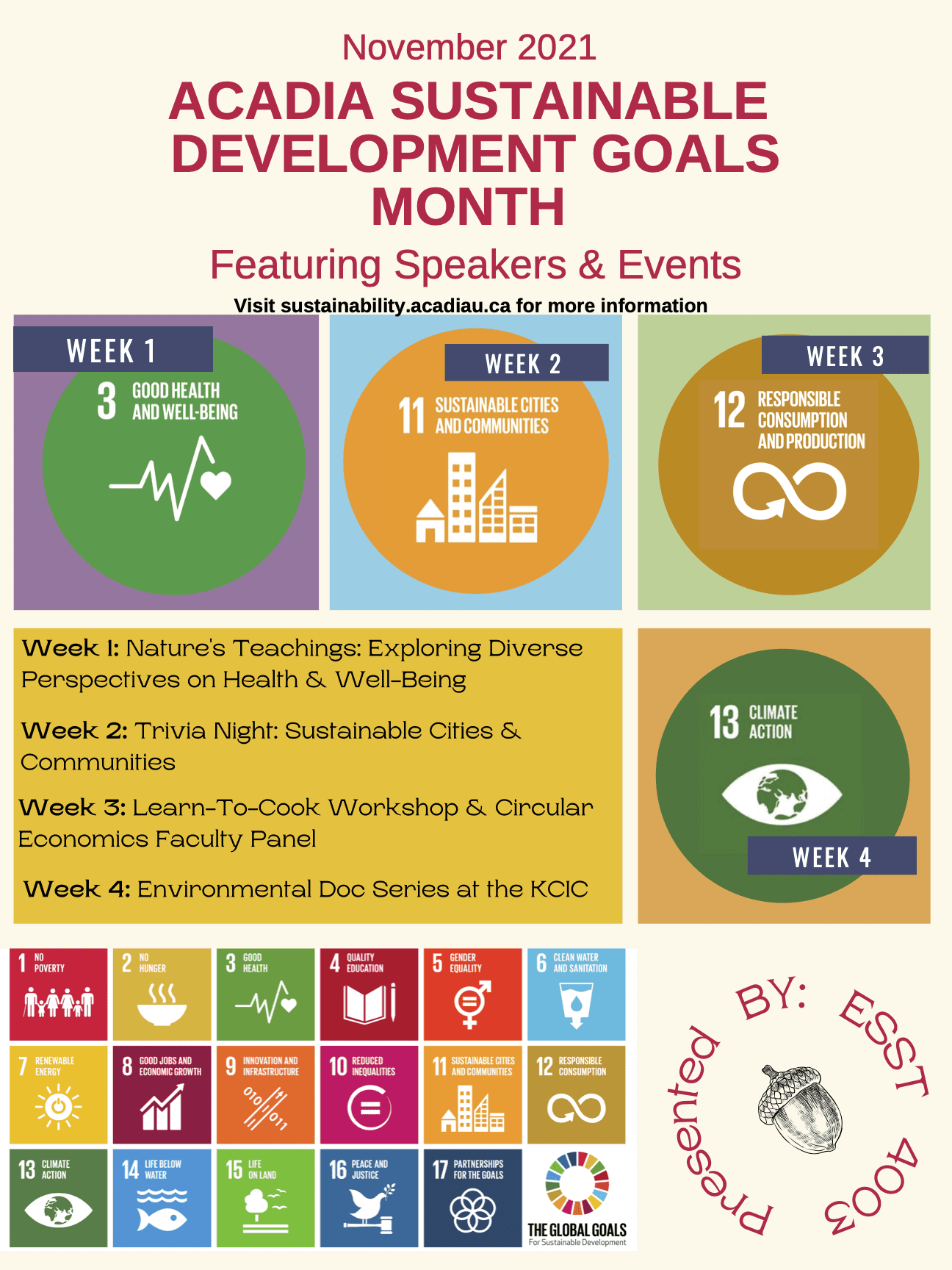 The fourth-year Environmental and Sustainability Studies class (ESST 4003) is organizing events throughout the month of November to explore several of the United Nations Sustainable Development Goals (UN SDGs). These events are open to all members of the Acadia Community.

Themes for the weeks are as follows:
Week 1: Good Health and Wellbeing
Week 2: Sustainable Cities & Communities
Week 3: Responsible Consumption & Production
Week 4: Climate Action
Details have been released for Week 1 – SDG 3: Good Health and Well-Being of Acadia Sustainable Development Goals (SDG) Month happening throughout November 2021 and open to all members of the Acadia Community.
WEEK 1:
WEDNESDAY, NOVEMBER 3rd | 11:00AM – 1:00PM
EVENT: Nature's Teachings: Diverse Perspectives on Health & Well-being
DETAILS: A discussion about how Acadia can support your well-being related to mental health, diversity, & feeling safe on campus, followed by a Medicine Walk with Kayla Mansfield-Brown & Leah Creaser (weather permitting). 
LOCATIONS: BAC 141 & Harriett Irving Botanical Gardens

Spaces are limited! Sign up here (open to members of the Acadia Community): https://forms.gle/nA1HS3rBUR39Y5aQ8
Thursday November 4th | 3:00PM – 5:00 PM
EVENT: Speaker Panel
DETAILS: Sarah Pittoello (Acadia Mental Health Counsellor), Emily Duffett (Work Integrated Learning Coordinator), Allison Smith (Acadia Sexualized Violence Response and Education Coordinator), & Polly Leonard (Acadia Health & Equity Officer) speak about health, well-being & equity.
LOCATION: Huggins 010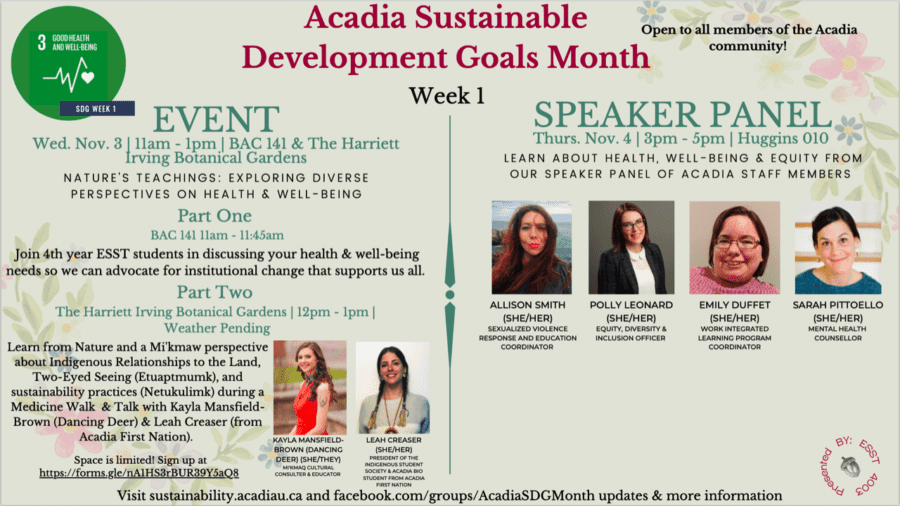 For more information and updates, please visit sustainability.acadiau.ca and join facebook.com/groups/AcadiaSDGMonth.
Please note all events and speaker series throughout Acadia Sustainable Development Goals (SDG) Month are politics passport approved.
Thank you to the class of ESST 4003 for organizing these events!