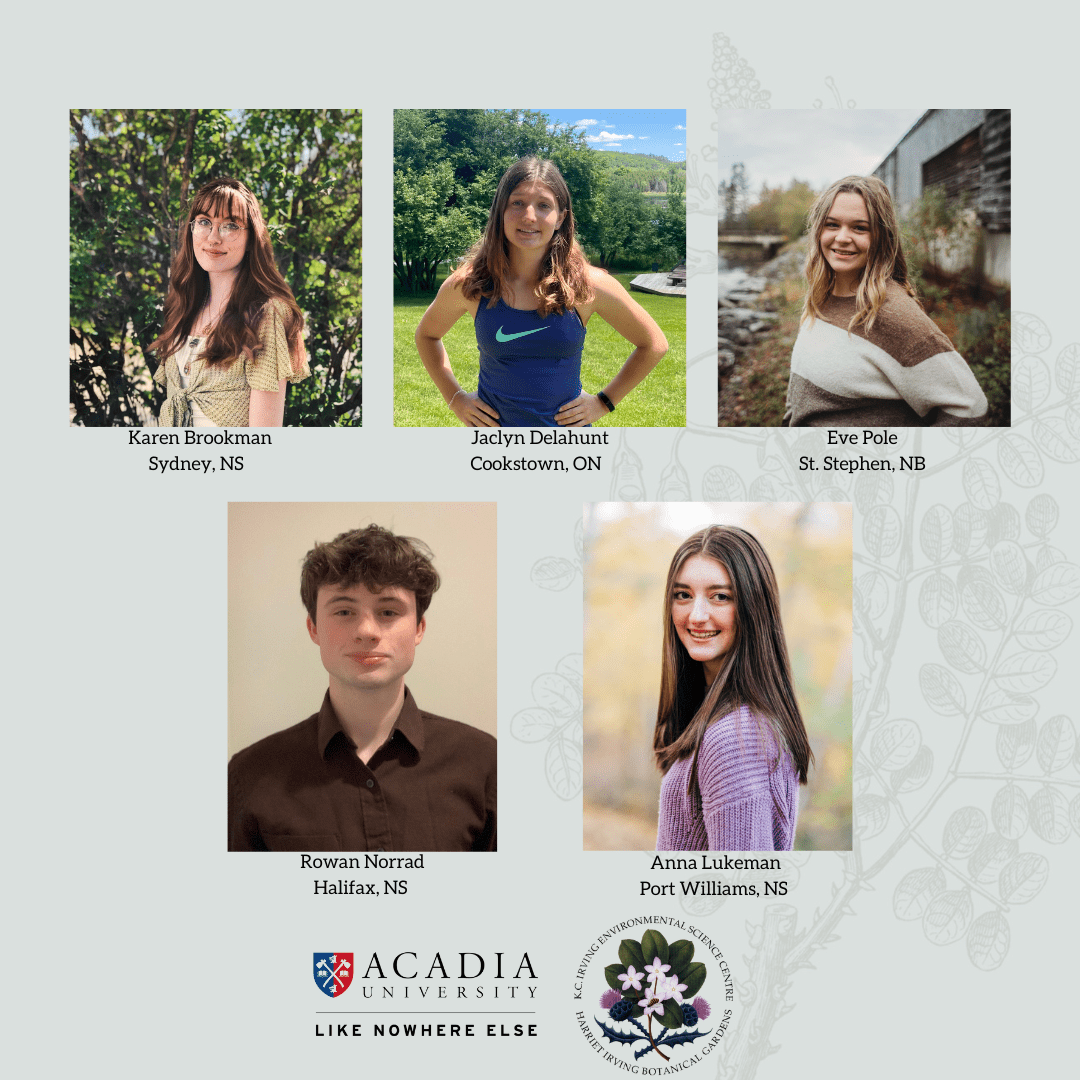 Acadia University and the K.C. Irving Environmental Science Centre are pleased to announce the 2022 recipients of the Arthur L. Irving Family Foundation Scholarship. This year's recipients are Karen Brookman, Jaclyn Delahunt, Anna Lukeman, Rowan Norrad and Eve Pole. 
The Arthur L. Irving Family Foundation Scholarship, valued at $60,000 over four years, is among the most prestigious in Canada. It is awarded to students with strong academic credentials, a demonstrated history of community involvement and passion for the environment. In addition to the financial support, the recipients are integrated into a mentorship network of current Irving Scholars and alumni and have opportunities to participate in research at the K.C. Irving Environmental Science Centre and Harriet Irving Botanical Gardens – a key pillar of the program. 
"Acadia is one of Canada's premier undergraduate universities, and the quality of candidates attracted to the University certainly speak to our outstanding national and international reputation. The ability to work with superb professors in the world class K.C. Irving Environmental Science Centre attract the highest caliber of students to these prestigious scholarships. I am very impressed by each student in this cohort and am excited to see what they accomplish at Acadia and beyond. Acadia is enormously grateful to Arthur Irving and his family for their incredible support and generosity."

Dr. Peter Ricketts, Acadia University President and Vice-Chancellor
"We are very proud to continue to support students at Acadia University and their passion for pursuing studies in the environment. We hope that this support inspires these students to continue to make a difference every day. Congratulations to Karen, Jaclyn, Anna, Rowan and Eve. We wish you all the best during your time at Acadia."

Arthur Irving, Chairman of Irving Oil
This year's group marks the ninth cohort of Arthur L. Irving Scholars and the largest group of undergraduate students to date.
Karen Brookman of Sydney, Nova Scotia will be studying environmental geoscience and would like to focus her research on coastal erosion and its potential impacts.
Jaclyn Delahunt of Cookstown, Ontario will be studying biology and is interested in the intersection of environment and human health. She is also a member of the varsity women's soccer team.
Anna Lukeman of Port Williams, Nova Scotia will study chemistry and is keen to apply chemistry to environmental problems.
Rowan Norrad of Halifax, Nova Scotia will be studying environmental science and has a demonstrated research interest in paleontology.
Eve Pole of St. Stephen, New Brunswick will be studying environmental science and is interested in ecological research.
Arthur L. Irving Scholars often describe the opportunity as life-changing, opening doors to a variety of possibilities and giving students the confidence to begin research early on in their academic careers. Recipients will be involved in research at Acadia University and support is provided to ensure connections are made to research consistent with their unique interests. 
To read full biographies of the new recipients, please click here.