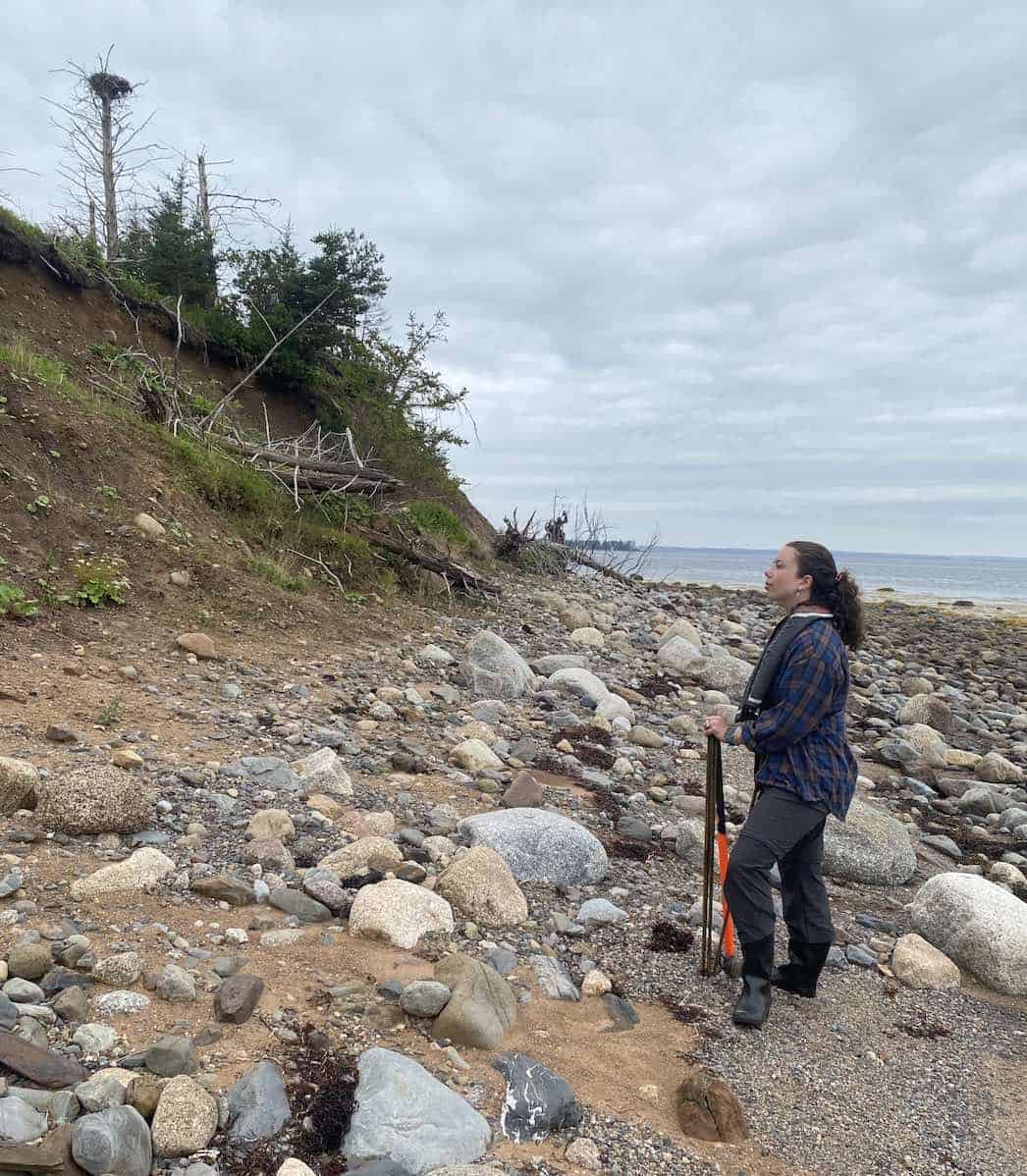 Natalie Koopman will be returning to classes with some unique field experience to compliment her studies as she starts the third year of her biology and chemistry degree this fall. Over the summer she has lived at the Morton Centre, on Heckman's Island in Lunenburg, NS.
The Morton Centre is an Acadia run facility used for environmental research and outreach situated on property donated by Dr. Harry and Rachel Morton. Coastal Action, a local conservation organization, often holds children's nature based camps on site in the summer. The property overlooks the ocean and several small islands in the area, making it a natural fit for Natalie's project. 
Over the summer Natalie, who is also an Irving Scholar, has worked with Dr. Ian Spooner, Research Director at the K.C. Irving Centre, to establish erosion monitoring sites on some drumlin islands of interest in the Mahone Bay area. This project was initiated by Mahone Islands Conservation Association (MICA) and Dr. Spooner with Coastal Action also being a collaborator. MICA has been concerned about the erosion rates of islands in the area and they want data to make informed decisions. The groundwork for this research began in 2013 with Dr. Spooner's honours student Josh Caines, who identified factors influencing erosion rates of islands in Mahone Bay. Natalie took the information from Josh's work and is implementing a method to measure erosion rates on some of the same islands he initially examined. 
Natalie has chosen four islands in the area to monitor. Islands were selected based on location and whether it was previously established that erosion was happening on the cliffs. To set up erosion pins Natalie inserted pieces of rebar in strategic locations based on the geological features of the sea cliffs on each island. To measure rate of erosion the distance from the tip of the rebar to the sea cliff is measured as well as the inclination of the rebar in the cliff. The sites will be monitored several times per year and could become an opportunity for citizen science as MICA has island champions who may be able to assist in data collection. The method is relatively simple, but it will provide invaluable data on how the physical environment is changing over time.
Over the summer Natalie has had the opportunity to be involved in several of Coastal Action's programs, notably their microplastic sampling. She also presented research to some of the children's camps and says "it's fun to learn from the kids, they have a lot of knowledge coming from coastal fishing communities that I don't as someone from Ontario. It's interesting to hear their perspectives".
Natalie came to Acadia to learn about the ocean, she says "being involved in the ocean environment is where I'm in my element. I'm most interested in the biology of oceans, but this has been a valuable opportunity to learn about the interconnectedness of geology. You need to know about the geology to effectively manage biology. This research project has given me a more well rounded lens to viewing ocean systems".