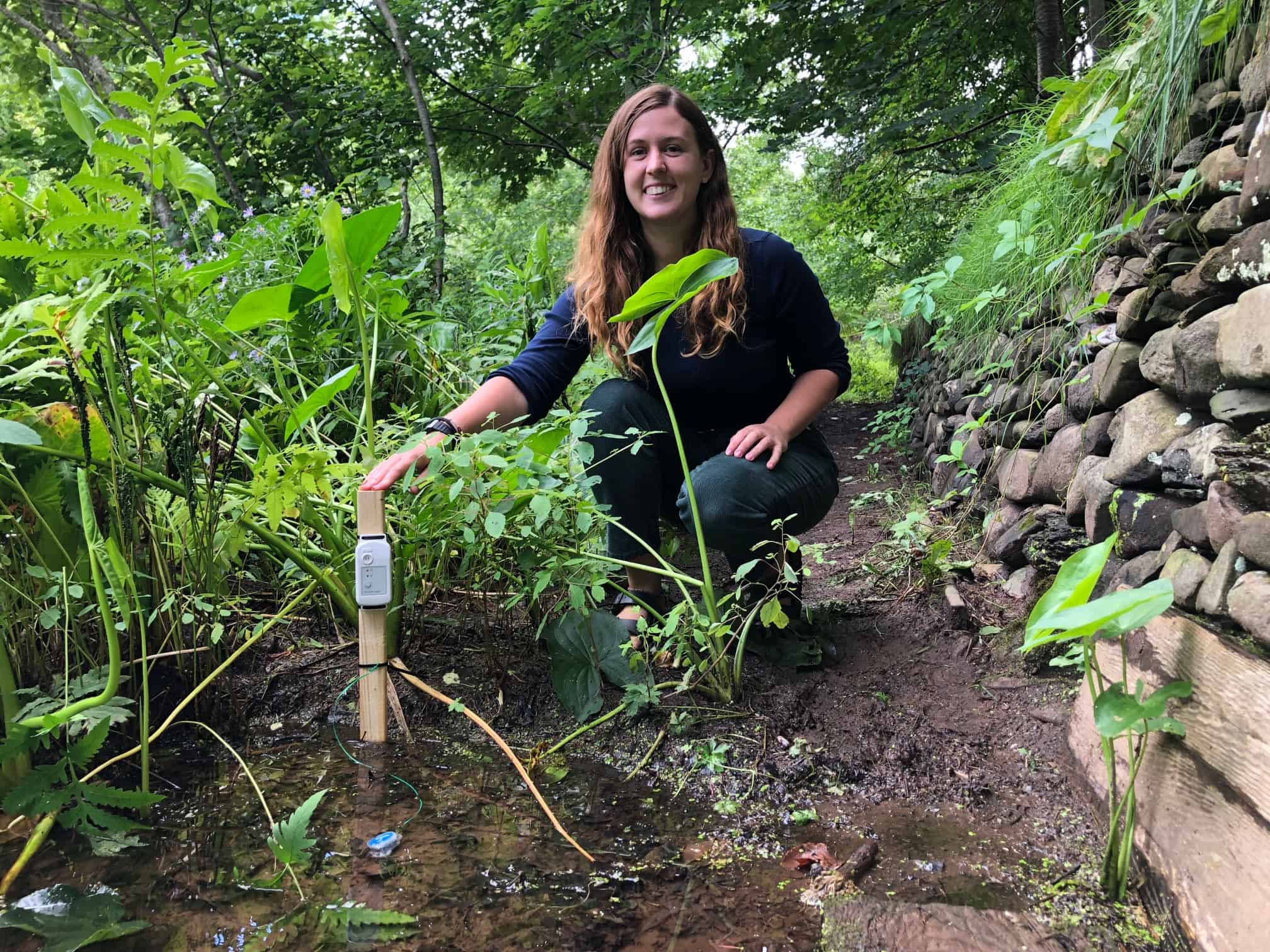 Taylor Swanburg, MSc candidate, 2023, is surveying mosquito species in Nova Scotia to give insight into current and projected disease landscape of the province. Taylor says, "with over 20 years since the last survey of mosquitos, we do not know what species are currently here and what diseases they may be able to spread to the public." 
Over the past decades international movement of humans and goods has increased and climate change is altering our environment, these factors may allow for invasive mosquitoes to establish in the province.
Taylor says, "There is a large gap in knowledge on what mosquito species are currently inhabiting Nova Scotia. Without routine surveillance, invasive mosquito species and their associated diseases may go undetected in Nova Scotia and potentially spread throughout vulnerable populations. As no vaccine exists for many mosquito-borne diseases, prevention and early detection is essential to protect Nova Scotians from infection."
To gather data, Taylor is taking a multipronged approach measuring environmental parameters and surveying across the province for mosquitoes with eDNA (environmental DNA). Taylor validates mosquito species found at each site by collecting water samples to analyse for eDNA. The use of eDNA technology is becoming essential to researchers studying population dynamics. Instead of attempting to trap mosquitoes, she can use mosquito specific DNA primers to quantify abundance in an environmental sample, which are simpler to obtain.
Taylor has also installed temperature data loggers in numerous habitats across the province, focusing on a mix of natural habitats and artificial containers, like discarded tires. One of the monitoring sites is in the Harriet Irving Botanical Gardens. Parallel to conducting the population survey and improving eDNA detection methods, Taylor is also interested in learning whether artificial habitats are "hot spots" for mosquito larvae compared to natural habitats. Mapping temperatures across sites and throughout seasons may give insight into which habitats allow for mosquito eggs and larvae to overwinter, which will predict future species compositions.
Taylor can trace her interest in environmental biology back to her childhood. She recalled, "as a kid I loved catching bugs from the backyard to look at under the microscope, which definitely translated into an interest in animals and biology". It wasn't until her fourth year of a biology degree at Dalhousie that she reconnected with entomology. She was hired to maintain insect colonies for a Dalhousie research lab and through that work she contributed to research projects and learned how important studying insects is. After graduation she connected with Dr. Kirk Hillier and came to Acadia to work as a molecular technician on his Heliothinae moth pest management research. Taylor then found her way to her current master's project co-supervised by Acadia biology faculty Dr. Laura Ferguson, Dr. Kirk Hillier and Dr. Russell Easy.
Taylor hopes to continue her research career working in molecular ecology. The experience she has gained in eDNA surveillance will lead to many opportunities as it is likely to become a standard method of species detection in the future. Integrating molecular tools into ecology and environmental biology is an emerging field that will benefit from skilled passionate researchers like Taylor!