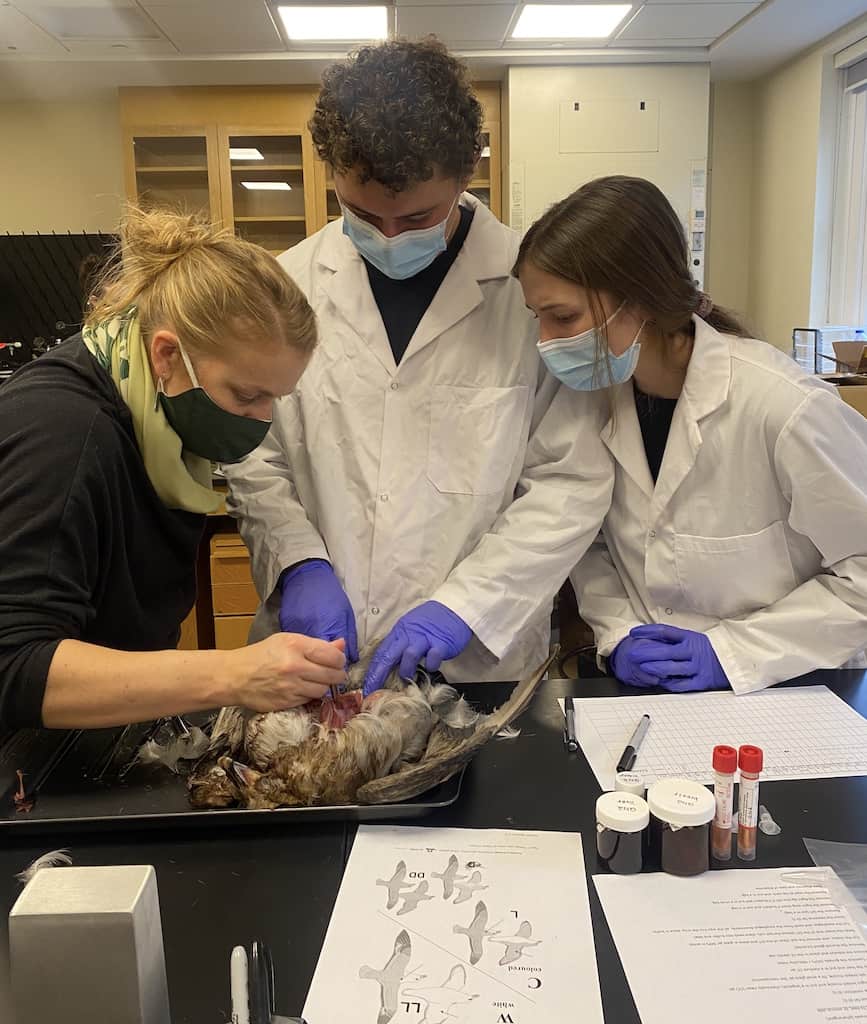 This week, Dr. Mark Mallory and Dr. Jennifer Provencher of Environment and Climate Change Canada (ECCC) assembled a team of researchers to dissect over 175 Arctic seabirds harvested from various Nunavut locations in the Irving Centre labs. The specimens were collected by Inuit hunters over the past year as part of a large scale, collaborative research project that contributes to our understanding of contaminant risk from increased vessel traffic and plastic pollution in the Arctic. Results of this research directly inform policy decisions by Inuit and ECCC.
The species of interest are Black Guillemots, Thick-billed Murres, Northern Fulmars, Black-Legged-Kittiwakes and Common Eiders. All of these species were selected as they are abundant throughout Northern Canada and they represent a variety of trophic levels and foraging strategies. Dr. Provencher says "it is important to our research that the species be pan-Arctic to generate robust data. From these data we will be able to compare oil and plastic pollution indicators on all three of Canada's coasts".
Collaboration with Inuit is central to the success of this project. The communities of Qikiqtarjuaq and Pond Inlet are close to protected areas and Area Co-Management Committees work with ECCC Researchers to determine research priorities. Dr. Provencher says "the Co-Management Committees often give me homework; they are highly interested in all of the different stressors that could be affecting birds and other wildlife within these protected areas". When it comes time to sample seabirds a "wish list" is created with the Co-Management Committee and ECCC. Inuit hunters are then invited to create harvest plans and they travel by boat to collect samples. Samples are then frozen and shipped to a central point, typically the Nunavut Arctic College in Iqaluit.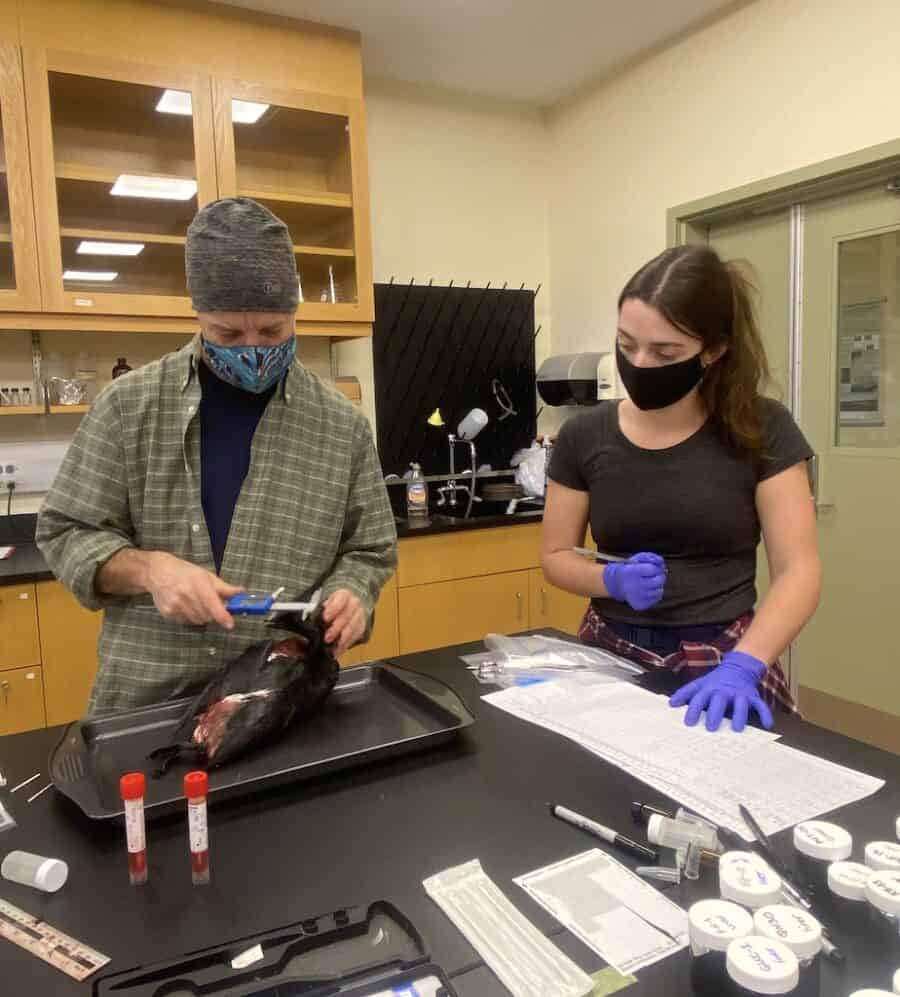 The large sample size currently being processed at Acadia is not an annual event, they are planned as needed to build on previous results and answer new research questions.  Dr. Mallory and Dr. Provencher have over 20 years of Arctic Seabird research experience and they say their success is because local communities are interested in their research questions. In fact, Dr. Mallory noted that "working with Indigenous communities has become a high priority and topical issue in the south the last decade, but it has been our way of working on seabirds in the Arctic since the 1990s."
Pictured left is Dr. Mark Mallory working with MSc candidate Jessie Wilson.
Building on community partnerships, the dissection events typically take place in at the Nunavut Arctic College as part of their Environmental Technology Program. In-person training events also take place in various communities to share the importance of this research program. Due to the ongoing COVID-19 pandemic, travel to Iqaluit this year was not possible. Through ongoing dialogue with the Inuit, it was decided to move ahead processing samples elsewhere. Dr. Mallory was very pleased to have Acadia accommodate the workload and 17 researchers, most being Acadia students, have benefited from the experience. Kristine Hanifen (MSc Biology 2023) is participating in the dissections and will be working with the samples for her thesis research. Kristine explains "I will be looking at plastic ingestion levels in Arctic Northern Fulmars. Being a part of the dissections is a great experience as I get to build on my lab work skills. This is my first time doing a really in-depth scientific dissection".  Acadia students Mark Maddox and Julia Baak are also using some of these birds for their graduate work.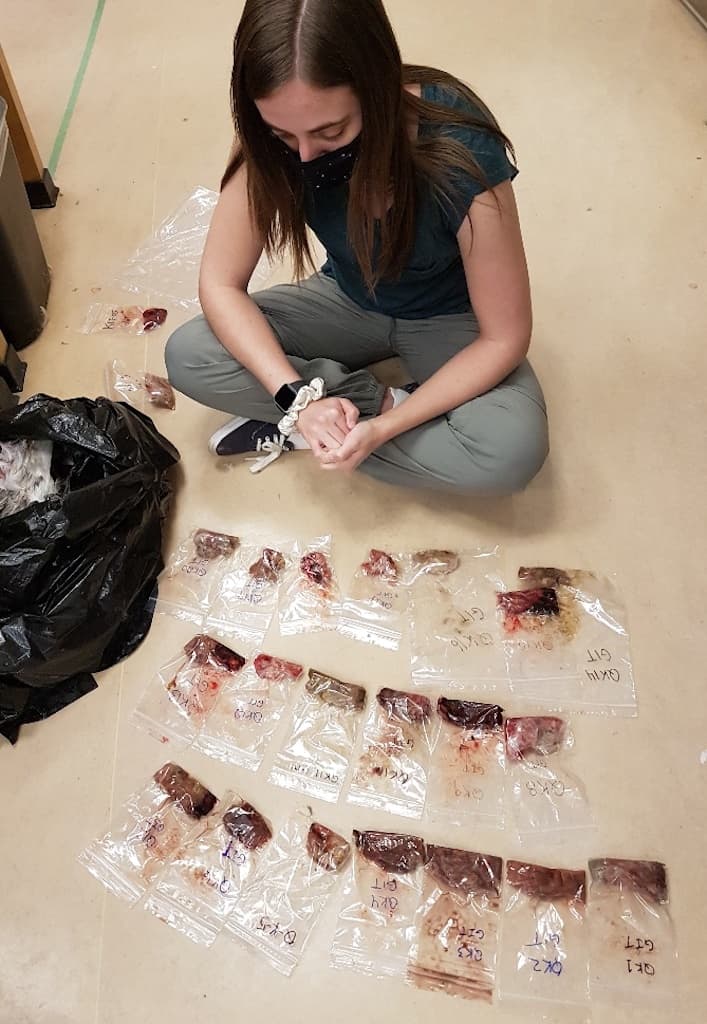 The dissection events are thorough, as the bird tissue is used for as many different metrics as possible.  Samples include: morphometrics (size of head, wing, bill, etc.); stomach for plastic pollution, diet, and microbiome; breast muscle, liver, kidney, and thyroid for chemical contaminants and nanoplastics; and throat swabs for avian influenza and novel virus detection. Tissues from each bird's head, wing and leg are also prepared for entry into the National Specimen Bank maintained by ECCC since the 1970s. The Specimen Bank recognizes that science is rapidly evolving, and it allows for future studies to compare to robust data sets. For example, specimens have recently been retrieved to look at plastic pollutants that weren't on researchers' radars in the 1970s. 
Pictured right is PhD student Julia Baak organizing samples.
Because this seabird harvest is substantial and well designed with a variety of species and locations represented, there is significant opportunity for collaboration. Acadia University and ECCC are the core institutions, but other researchers from Queens, McGill, Ryerson, Carleton, Université du Quebec àRimouski, Canadian Food Inspection Agency, and Ulm University in Germany are involved in using the samples to learn more about contaminant status and effects in Arctic seabirds.
Dr. Provencher's research program explores contaminants, stressors, and cumulative effects in Arctic species. She is adjunct at Acadia and Dr. Mallory is one of her main collaborators. Acadia graduate students co-supervised by Dr. Mallory and Dr. Provencher are fortunate to gain valuable experience in applied science. "This research directly informs conservation action plans, protected area management plans, and international agreements on emerging contaminants. Our collaboration is a tangible way for students to understand how policy-relevant science is done" says Dr. Provencher.