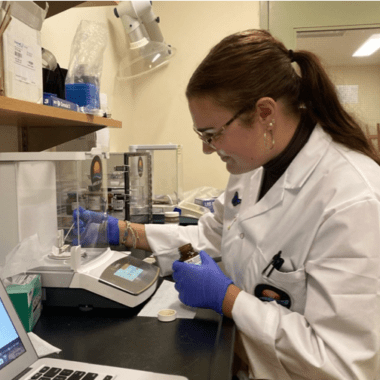 Big Meadow Bog (BMB) is a disturbed wetland habitat located on Brier Island, NS.  BMB was subject to water table restoration in 2018 which attempted to remediate historic ditching and return the wetland to its natural state. BMB is also affected by large inputs of herring gull guano and carcasses, which has resulted in elevated nutrient concentrations at the site.  Flooding and nutrient inputs from biovectors like gulls are important factors that contribute to increased methylmercury production in wetlands. Recent literature on invertebrates has shown that select families may be significant bioindicators for mercury bioaccumulation and ecosystem change. This project will examine the distribution of mercury in invertebrate families in BMB.
Objectives:
1. Determine if and to what extent mercury bioaccumulation is occurring in invertebrates in Big Meadow Bog
2. Quantify invertebrate mercury concentrations for use in long term monitoring
Mia Doncaster
Mia is a Biology and Environmental Science double major working on this project for her honours research. Mia says, "My favourite part about research is getting the opportunity to ask new and exciting questions and to hypothesize why environmental phenomena are happening. Working in the Irving Centre has given me the ability to work closely with many professors and students, and to continue learning new lab and field work skills".
Mia is co-supervised by Dr. Nelson O'Driscoll and Dr. Kirk Hillier for her honours project.