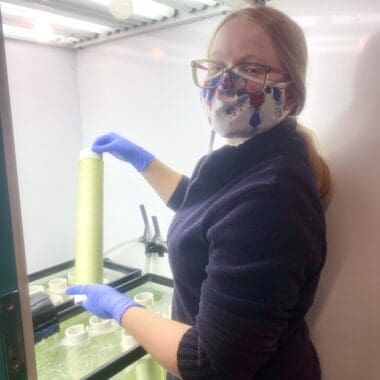 SeaChange Biochemistry Inc. is an innovative start-up in Cape Sable, Nova Scotia, that has built an exceptional extraction method of numerous high-value industrial chemicals from seaweed. This has enabled them to produce these chemicals at a significantly lower cost than their competitors.
Sabrena Mackenzie, co-founder of SeaChange, is proud to have emerged with this pioneering process which triples the output, reduces production costs by over 50%, generates high margins, produce high quality products and eliminates waste.
Mackenzie connected with Dr. Allison Walker, Associate Professor in Acadia University's Department of Biology via Acadia's Office of Industry and Community Engagement (ICE) to establish a kelp seedling nursery in the K.C. Irving Environment Science Center and operates with the support of Acadia graduates & past Irving scholars Tyler d' Entremont, MSc and Sarah Adams, MSc (pictured above).
Access to the kelp seedling nursery enables SeaChange to control all the steps of their supply chain, leading to sustainable and cost-efficient practices. It also ensures year-round availability of source material to supply demand from the food and beverage, cosmetic and pharmaceutical industries. Since the source tissue from wild kelp is only obtainable in the fall when seaweed is reproductive, kelp farming is a breakthrough for Atlantic Canada and is anticipated to provide numerous employment opportunities in the region and will likely be of interest to the many existing aquaculture farmers.
Click here to view the research poster >>
To learn more about SeaChange Biochemistry click here