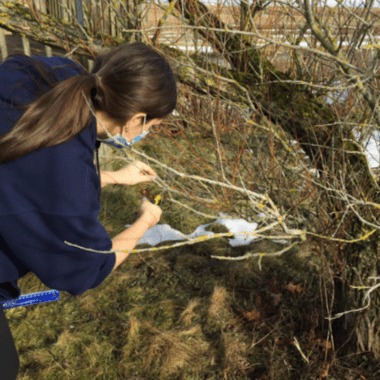 Grand Pre National Historic Site is home to willow trees (Salix sp.) that are known to have been planted by Acadian settlers over 400 years ago. Parks Canada has classified these trees as cultural artifacts, due to their survival in this space even after the Acadian deportation in 1755.
In addition to the challenges of their advanced age, the Willows at Grand Pre are declining from a suspected blight infection causing shoot tips to die and cankers to form on branches. Acadia has partnered with Parks Canada to develop a conservation strategy for the Grand Pre Willows.
Pictured left is BSc student Carolyn Smith sampling willows at the Grand Pre site.
Initial Objectives:
Use micropropagation techniques toestablish healthy cultures and trees growing ex situ. This will ensure the genetic material from each tree is preserved
Identify the fungal pathogen(s) causing blight symptoms
Fungal Progress:
Many fungal isolates were cultured from symptomatic willow tissue. 16 isolates were sent for DNA sequencing. Results indicate Colletotrichum salicis (syn. Glomerella miyabeana) and Valsa salicina could be contributing to the blight symptoms.
Tissue Culture Progress:
Genetic material from 10 sampled willow trees is currently represented in tissue culture and over 300 new trees have been out-planed into soil in the greenhouse. All plants appear vigorous and free of blight symptoms.
We aim to continue working with Parks Canada to develop a long-term conservation strategy for the protection of this important cultural artifact.