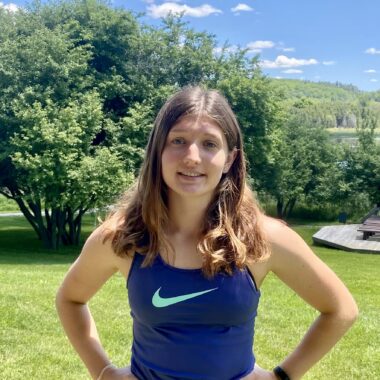 Jaclyn Delahunt from Cookstown, Ontario is a 2022 graduate from Bradford District High School. Jaclyn played League 1 Reserve Soccer for Richmond Hill and is looking forward to joining the Acadia Axe Women's soccer team this fall. In the past year, Jaclyn has participated on the school flag football team, volleyball team, ultimate frisbee team and the school soccer team. Jaclyn is also a part of Bradford District High School's Athletic Council and volunteers her time to ensure sport activities are well organized.
Jaclyn initiated a program to reduce green bin waste by collecting unwanted food scraps from friends and neighbours. She weighed and totalled the monthly scrap intake per household. The organic waste was then fed to her chickens ultimately reducing the amount entering the landfill, while supplementing her chicken's grain consumption.

This fall, Jaclyn will be pursuing her Bachelor of Science in Biology where she will explore how environmental issues impact human health and the different approaches utilized to mitigate the risk for all living things.